Noble by Nature
To be noble is a virtue that exists intuitively. To be admired, respected, trusted. Our land is humble and honest, unaware of its virtues. And how its way of being ...teaches all around it. Gifting opportunity and offering us Carmenere to which we are thankful, committed and proud.
Our wines are grown from such soils, exploring the most optimal terroirs to suit specific varieties crafted to express nature in flavor, texture and aroma. Envisaged to reflect the distinct, yet subtle touches of the Andes and the Pacific Ocean. Respecting the ability of our people.
And we serve them with pride.
Origin
Spread between the valleys of Casablanca, Colchagua and Maule, our vineyards cover about 300 hectares. They have been chosen and developed according to the needs of each variety. In this way, we have available the best climate and soil conditions to produce balanced wines, with great aromatic and flavor concentration, that express the nobility of their origins.
Casablanca Valley
El Algarrobo Vineyard
Chosen in 2013 as a member of the Great Wine Capitals of the World, the Casablanca Valley is located in the Aconcagua Region, halfway between Santiago and Valparaíso. Globally acclaimed for its exceptional conditions for growing white varieties, its climate –of pronounced maritime influence– allows to obtain unique expressions of freshness and fruit.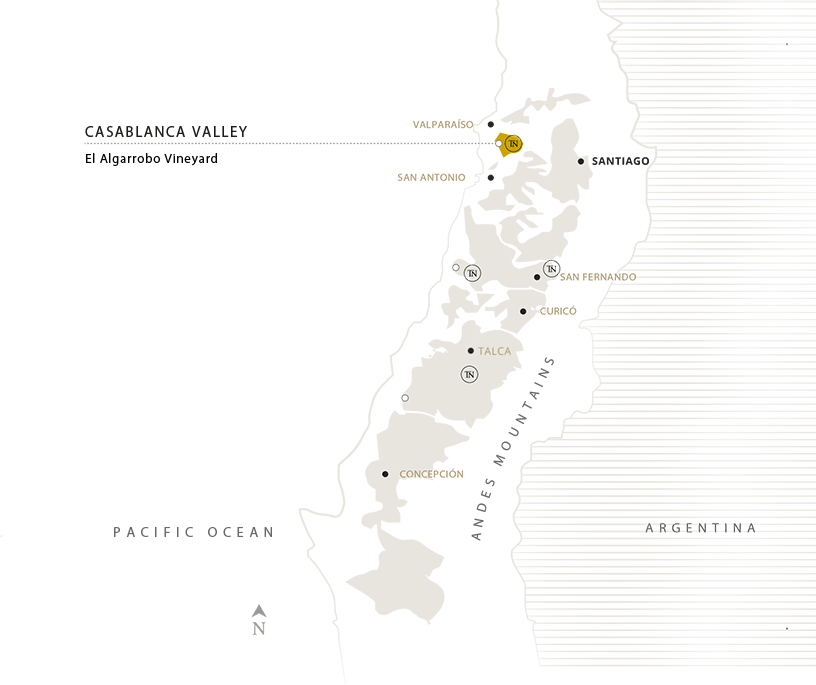 El Algarrobo Vineyard
Location
Located near to the city of Casablanca. Planted on hilly slopes, the vineyards are influenced by the Coastal Mountain Range as well as by the Pacific Ocean.
Climate
As a valley with a semi-arid climate, the proximity of the Pacific Ocean has a strong maritime influence which becomes evident in morning fogs and a considerable temperature variation between day and night.
Soil
Mainly clay with sand, which makes up a soil of low fertility.
Varieties Planted
Mainly Pinot Noir, Sauvignon Blanc and Chardonnay. Also Pinot Blanc, Syrah and Tempranillo
Characteristics of the Wines
Wines of great character and distinct typicity, vibrant acidity and pleasant expressions of freshness and fruit.
Colchagua Valley
Los Lingues Vineyard y Los Cactus Vineyard
The Colchagua Valley is located at the heart of the Central Valley, 150 km (93.2 miles) south of Santiago. It starts at the feet of the Andes Mountains and extends towards the Pacific Ocean along the basin of the Tinguiririca River, thus receiving direct maritime influence.
Los Lingues Vineyard
Location
Our vineyards are placed at the northeast side of the Colchagua Valley, at the feet of the Andes Mountains.
Climate
The vineyards benefit from a temperate Mediterranean microclimate. Due to the Andean influence, daytime breezes maintain a constant temperature, and the cold nights create a temperature oscillation of up to 20º C.
Soil
The soils, of alluvial and colluvial origin, are made up of fine sand, clay and granite, with good drainage and low fertility.
Varieties Planted
Cabernet Sauvignon, Carmenere, Syrah and Petit Verdot.
Characteristics of the Wines
Wines of soft and ripe tannins and great volume on the palate; they are fresh and with a natural sweetness.
Los Cactus Vineyard
Location
In the drylands around the town of Marchigüe, on the coast side of the Colchagua Valley, our vineyards grow on soft rolling hills, the region's characteristic landscape.
Climate
The area's characteristic temperate Mediterranean climate benefits from a special condition due to the soft coastal influence. Constant and refreshing breezes allow a slow ripening of the grapes.
Soil
Of diverse origins, soils can be loamy placed on a granitic matrix (low retention) as well as sandy-loam soils with round stones and low fertility.
Varieties planted
Cabernet Sauvignon, Carmenere, Syrah, Petit Verdot, Malbec, Merlot and Marselan.
Characteristics of the Wines
Vigorous and fresh wines, with a great fruit expression and chewy tannins that need to be tamed.

Maule Valley
La Higuera Vineyard
The Maule Valley, Chile's largest viticultural area, is located about 250 km (155 miles) south of Santiago. It receives its name from the river that descends from the Andes and flows into the Pacific Ocean, irrigating on its path the valley where our vineyards are planted.
La Higuera Vineyard
Location
Our vineyards, as well as our winery, are located in the district of San Clemente, the highest sector of the Maule Valley, in the area called Valle del Claro.
Climate
Great brightness, suitable soils and clearly defined seasons characterize this valley of sub-humid Mediterranean climate that receives 700 mm of annual precipitations. The wise rotation of warm days and cool nights, with large temperature fluctuations, allows our fine varieties an optimal growing and ripening process.
Varieties planted
Carmenere, Merlot, Chardonnay, Suavignon Blanc and Grenache
Soil
An area of slightly rolling topography, with soils of sedimentary alluvial origin, fluvio-glacial and colluvial, of medium to low fertility.
Characteristics of the wines
The Maule Valley allows ripening red varieties of soft tannins, like Merlot and Carmenere, providing them with great freshness. Because Carmenere is a late ripening grape, it adapts well to the semi-cold climate and results in wines of great fruit and soft tannins, slightly sweet and with excellent freshness on the palate. Like Casablanca, Maule is also one of the best valleys for producing Sauvignon Blanc.
Road to Harvest
Enjoy the videos that we have developed to capture the different stages of the harvest in Terranoble.